Services
Dog Bins
The Parish Council currently provides and empties weekly twenty six dog bins around Belmont, Chapeltown and Edgworth,  with those at Entwistle being emptied three times per week since United Utilities removed their four bins from around the reservoir. A bin has recently been installed on the footpath between Harbour Lane and Thomasson Fold, Edgworth.
Litter Collection
Blackburn with Darwen Council provides funding to the Parish Council towards the collection of litter along the roadside throughout North Turton. This work is undertaken by the Parish Lengthsman, appointed by the Parish Council.
The following roads are litter-picked twice a month:
Bury Road, Bolton Road, Blackburn Road, Broadhead Road (as far as the Toby), Crowthorn Lane, Green Arms Road (up to the A666), Moorside Road, Belmont Road (from the layby opposite the road to Tockholes down to Scout Road), Egerton Road, Longworth Lane, Rivington Road (to the Blue Lagoon), A666 to Stonesbank Road and Stonesbank Road (up to Egerton Road),
On average, over 20 bags of litter are picked up each week, as well as fly tipping being cleared most weeks.
This entails at least four journeys per week to Blackburn's waste disposal centre.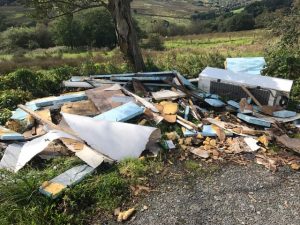 Fly tipping in Belmont, November 2017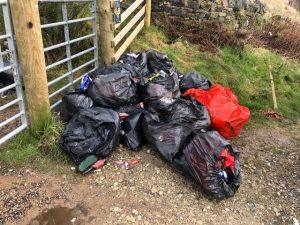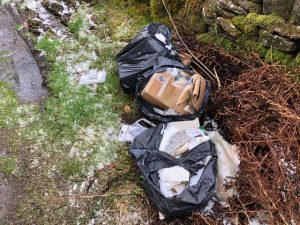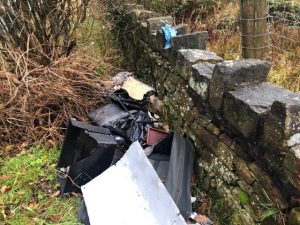 Some of the fly-tipped waste removed from the roadside in February 2020
Lengthsman
The Parish Council funds the Lengthsman scheme, which involves maintaining roadside verges, pathways and publicly owned spaces within North Turton.
The Lengthsman maintains some of the community areas in the area, including the community orchard, the garden around the stocks in Chapeltown and the area around the waterwheel on Bury Road.
He carries out repairs to gates and fences in community areas, and puts up the Remembrance poppies around the villages.
Some of his activities in recent times include the repair of dry stone walling around the Moss in Belmont, spraying weeds along footpaths, repair of the gateway behind the Black Bull leading to the Wayoh reservoir, laying chippings on a muddy section of footpath around the Wayoh, and cutting back overhanging bushes on Bury Road.
Should you become aware of  something in the villages which needs attention, please report it to the Parish Council.
The Lengthsman also collects litter and empties dog bins – see above.
Public Conveniences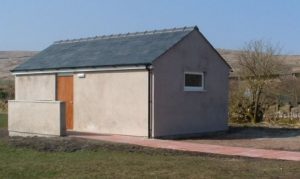 The public conveniences at the Belmont Playing Fields are open daily, and are owned and maintained by the Parish Council.
Bus Shelter in Edgworth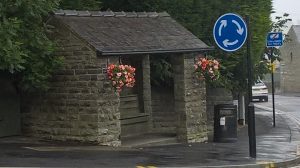 The Parish Council is responsible for the stone bus shelter at Edgworth crossroads, and has provided hanging baskets to enhance it.
Belmont Playing Fields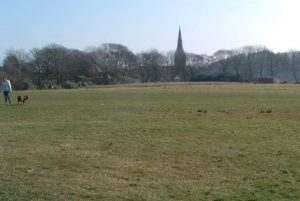 The Parish Council is the Custodian Trustee of the playing fields at Ryecroft Lane, Belmont.
The grass and children's play area are maintained by Blackburn with Darwen Council.
We have recently paid for the rebuilding of a section of the dry stone wall which had been vandalised.
Community Orchard
The community orchard, between Birches Road and Vale Street, Edgworth, is maintained by the Parish Council, and provides a tranquil spot for picnics in the summer months.